In the Spotlight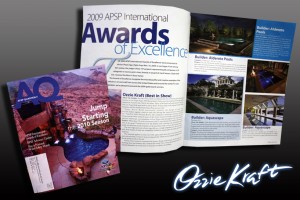 KEVIN KRAFT, President of the Kraft Corporations, has been recognized repeatedly for his innovative pool designs by the staff of Aqua International Magazine, a leading industry trade publication. Kevin was featured in "spotlight" articles in March of 1995, August of 20000, June of 2001 and April of 2002. Kevin's award winning project created for the 2002 "street of dreams" tour graced the cover of Aqua Magazine's October 2002 issue.
The September of 2007 cover of Aqua Magazine features a unique pool at the Menzies residence.
HGTV's television show "Splash" featured and named the Menzies project the 5th best residential pool in the United States.